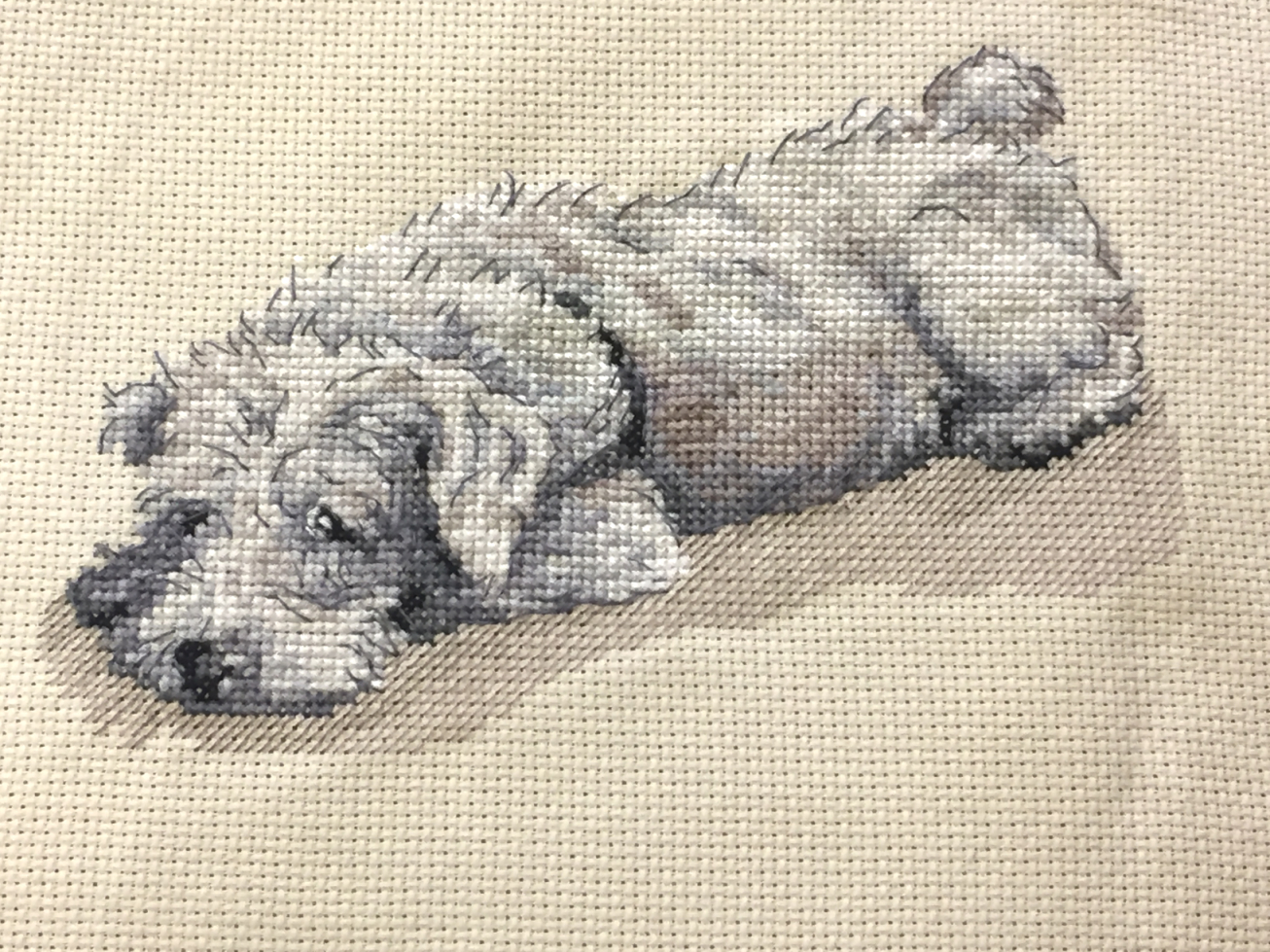 Man's best friend by Cecil Aldin are a series of cross stitch kits by CWOC Stitch.
This kit is called Murphy and is one of the many beautiful kits in the Man's Best Friend series. Its my most recently finished client request and I apologise for not uploading it sooner.
About the Man's best Friend kit.
The kits themselves are lovely and are based on the illustrations by Cecil Aldin (1870 – 1935). Cecil Aldin was one of the best loved and most prolific book illustrators working during what was so-called the Golden age of illustration. Aldin, himself wrote and illustrated scores of delightful books for children based on the antics of mischievous puppies, as well as more auto biographical works featuring his own menagerie.
In this man's best friend kit the thread colour groups are all very similar. There's lots of small detailed areas requiring close attention when following the pattern making it hard to get into a rhythm when stitching. Especially the Blanc and light grey colours, as its hard to distinguish between one and the other against the Aida. This also makes it hard to tell where you have stitched previously or not. All other shades only vary slightly when grouped together making following and marking the pattern with meticulous accuracy a must.
Doing the back stitching.
When back stitching, the single thread of back stitch is hard to see in places, especially over the darker areas. This makes it hard to see if it has been done. Good natural light is also essential.
I would definitely not recommended a Mans Best Friend kit to anyone who is new to cross stitch. Also if you have trouble with your eyesight or have very low concentration levels do not attempt this kit.
To buy Man's Best Friend kits in the UK Click here!
To buy Man's Best Friend kits in the US Click here!
Mans best friend by Cecil Aldin. Murphy.
Average rating:
0 reviews