Fun childrens cross-stitch kits.
If your child shows an interest in needlecraft I would highly recommend fun cross stitch kits for kids. Generally kits like the ones discussed below sell as either tapestry kits or counted cross stitch kits. However, the stitching techniques and principles for the more basic kits are the same. The first kit I will be talking about is a Frog Tapestry kit which uses half cross stitch stitch's, to form the design. Shown in the finished example below.
Fun cross stitch kits for kids of 6 +
Beginners Frog Tapestry Kit.
The Frog Tapestry kit is a basic kit that has a fun design printed on large-holed ten count Aida/canvas. The packaging clearly shows the design and colour scheme making it easy to follow. Kits like this one are perfect for any young child wanting to have fun while also learning Cross stitch/Tapestry stitching techniques. They are also excellent in helping to improve a childs hand eye co-ordination (fine motor skills) and cognitive skills. Not only that, and most definitely on the plus side, they will also help reduce the amount of time your child spends in front of a screen! Win, Win!! However the recommended age for most childrens kits usually start at 6 years. This is due to them containing a needle.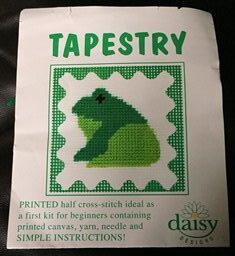 The simple manufacture of these kits make them fun and easy to follow. Each kit contains the printed Aida, threads, a needle and stitching instructions. The threads supplied do not require the strands to be seperated as you would with more advanced designs. The only thing required is to follow the picture and fill in the printed design on the canvas using the stitching guide and techniques shown in the detailed stitching instructions supplied.
10 count Aida Fabric Printed design.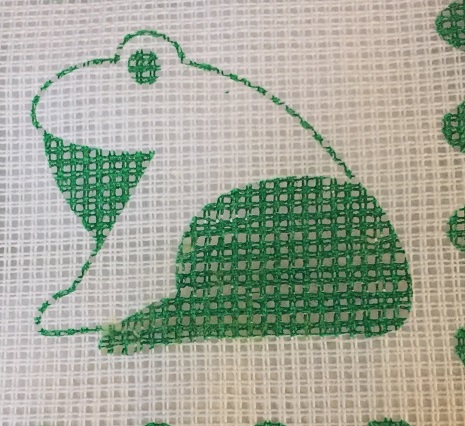 Cotton Aida comes in many sizes but for this particular design it's printed on 10-count stiff Aida, that's 10 stitches to the inch. A simple stitch will form by sewing from the bottom left to the top right corners of each individual square. This creates what's known as a half cross stitch which was also mentioned earlier. This is a standard basic tapestry stitch.
Finished Childrens Frog Tapestry kit.
The symplicity of kits like the one mentioned make them very easy to understand. They also require little supervision once your child has mastered the stitching technique, meaning that once shown how to sew each stitch your child can easily learn basic Tapestry. There's only three basic colours used in this simple design. A Dark Green and Light Green form the body and a Black thread's used for the Frog's eye. Basic kits like the one shown can be purchased online, and also by using the links below.
This kit was enjoyable and very easy to do meaning that anyone new to cross stitch can pick up the basics very easily using a kit like this. Most children's Tapestry kits contain fun designs and bright vibrant colours covering most subjects. With that said, I would highly recommmend this type of kit for any young child or beginner wishing to learn basic tapestry or Cross stitch.
Fun cross stitch kits for kids of 8 years +.
Beginners Simple Teddy Bear Counted Cross Stitch kit.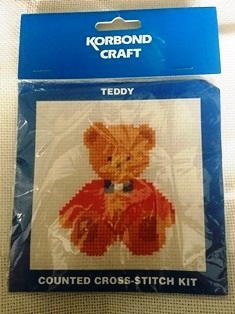 If your child's eight years or older I would recommend starting with a kit like this one. These kits come with plain Aida, threads, a needle and an easy to follow pattern and thread chart. The example shown below shows a partially completed example of a Teddy bear cross stitch kit.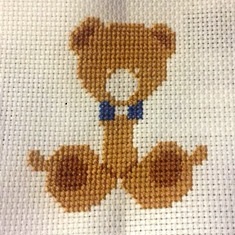 This kit is a counted cross stitch kit on plain white 14ct cotton Aida.With this kit and kits like it, the stitches are slightly more advanced because unlike the Frog kit it uses a standard crossed stitch to fill the design.
To sew a standard cross stitch you sew from the bottom left to the top right corner and then back over from the bottom right corner to the top left corner of each square hence forming a traditional cross stitch. This however can vary depending on your sewing preference providing all the top diagonal stitches run in the same direction.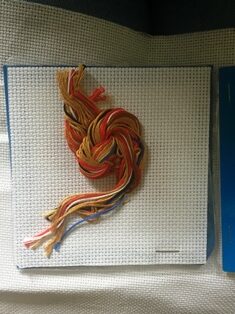 The slightly older age group kits, usually from 8 years and up, will contain plain or printed 14 count Aida/fabric (14 stitches to the inch), along with a simple pattern, needle, threads and instructions to complete the cross stitch design.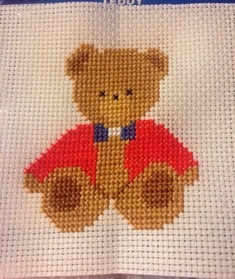 Most kits use all six strands of the stranded cotton. This means that there's no need to seperate the strands like you would do in more complex cross stitch kits, making the yarns/threads easier to manipulate.
Availabilty of the kits discussed.
The kits discussed have been hiding in the bottom of my needlework bag for many years meaning that I am no longer sure if these particular kits can still be purchased. However, with that said, there are many similar colourful and exciting childrens cross stitch and Tapestry kits available to suit all ages.
Purchasing kits for kids.
Where to buy childrens and beginners cross stitch and Tapestry kits.
Similar kits like the ones shown above can easily be purchased online. If you are looking for a beginners cross stitch / Tapestry kit or one that is slightly more advanced please feel free to use the links provided below.