Week 4

of Christmas Owls Cross Stitch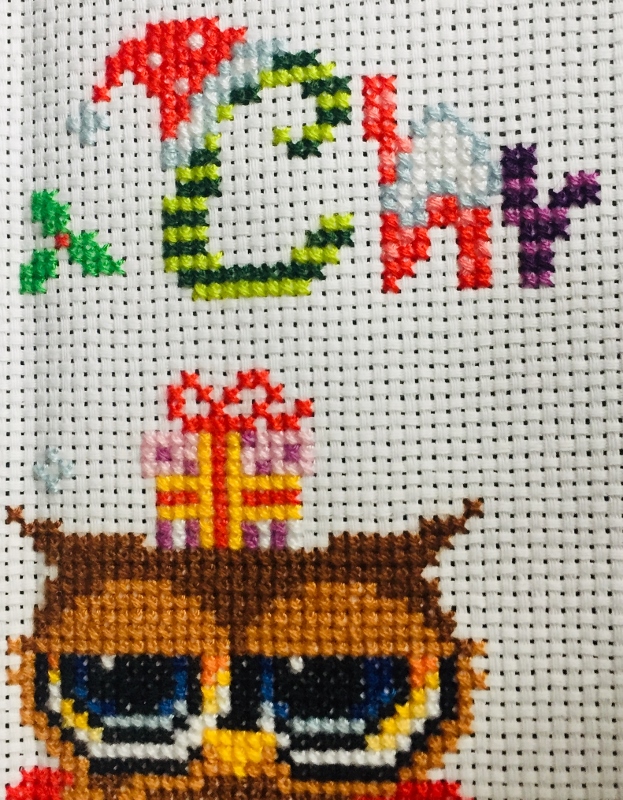 I got carried away with the letters for this Christmas Owls Cross-stitch project (Part 3) – I only wanted to do the C but they were so easy to do I added the snowy 'h' and the purple and lilac 'r'.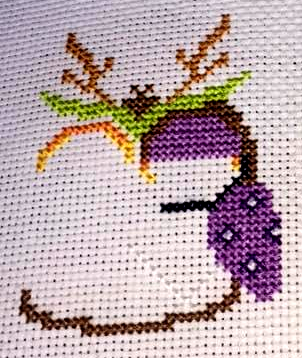 It was hard but I forced myself onto the second owl, to the left of centre. I really love this one especially the purple and green in this reindeer owl. These are DMC threads that can be purchased at AMAZON USA or AMAZON UK.
The eyes, this time, were easier to complete because there were no single stitch colours.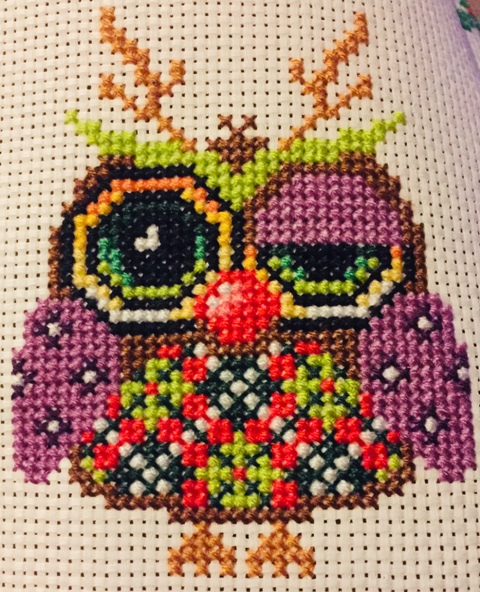 The trickiest part of this owl was the jumper. It was very easy to misjudge where each stitch needed to be placed even though it is quite a simple symmetrical diamond pattern.
His red nose finishes him off beautifully although Rudolf the red nosed owl doesn't have quite the same ring.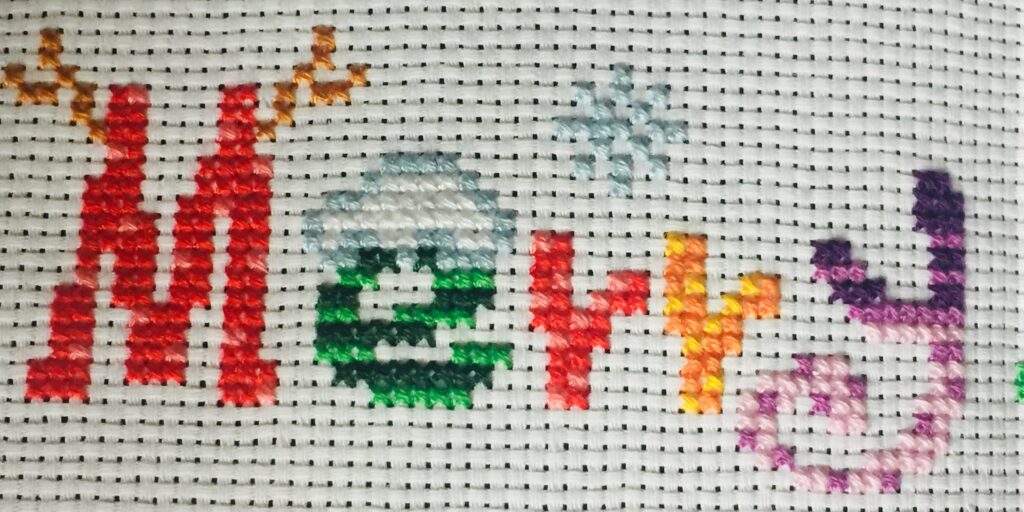 Above this owl sit all the letters for 'Merry' so it would be rude not to complete them. As I said before, they are easy to finish and look fantastic. My favourite one was the 'M' simply because of the reindeer antlers.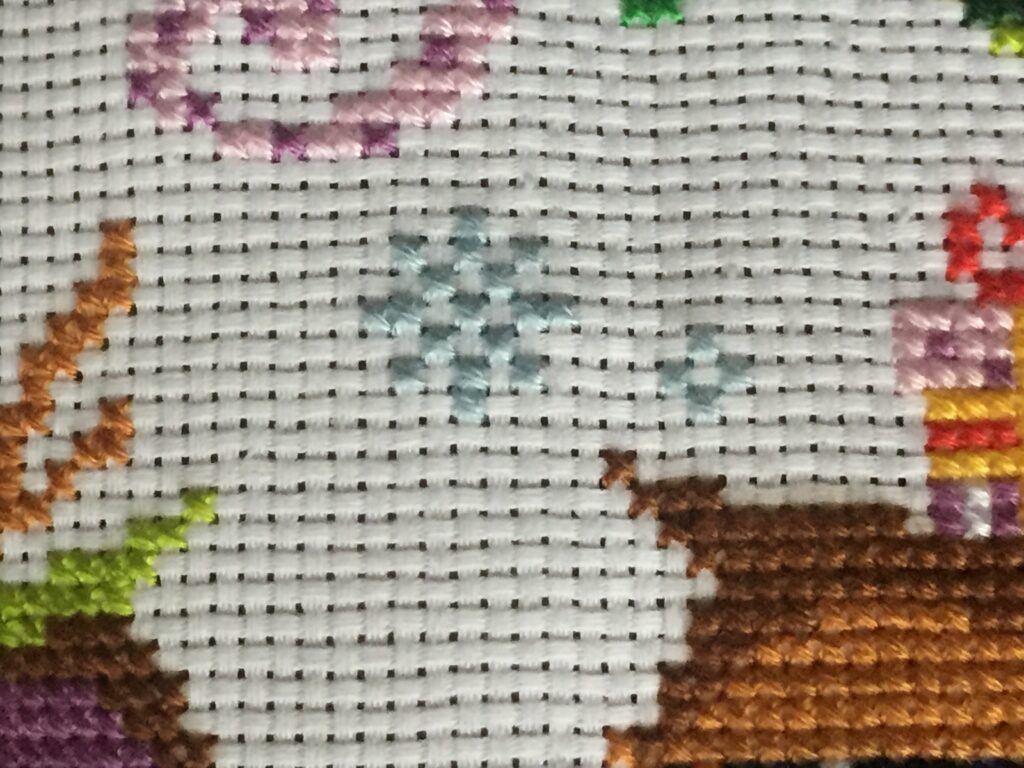 I have avoided the snowflake stitching. However, after finishing these letters, it seemed time to move on to the snowflakes because of their close proximity to the letters which made tying off much easier.
Week 5
Two owls this week – one easy, one not quite so easy. See if you think you can work which is which from the pictures below.
If you are anything like me, white floss is not your favourite colour to stitch with. Whilst it does look effective once it's done, I do everything I can to leave it until last. I kid myself that it's because I don't want to damage the colour with natural oils from my skin. But I know it's just because it's tricky to follow the white thread on a white Aida.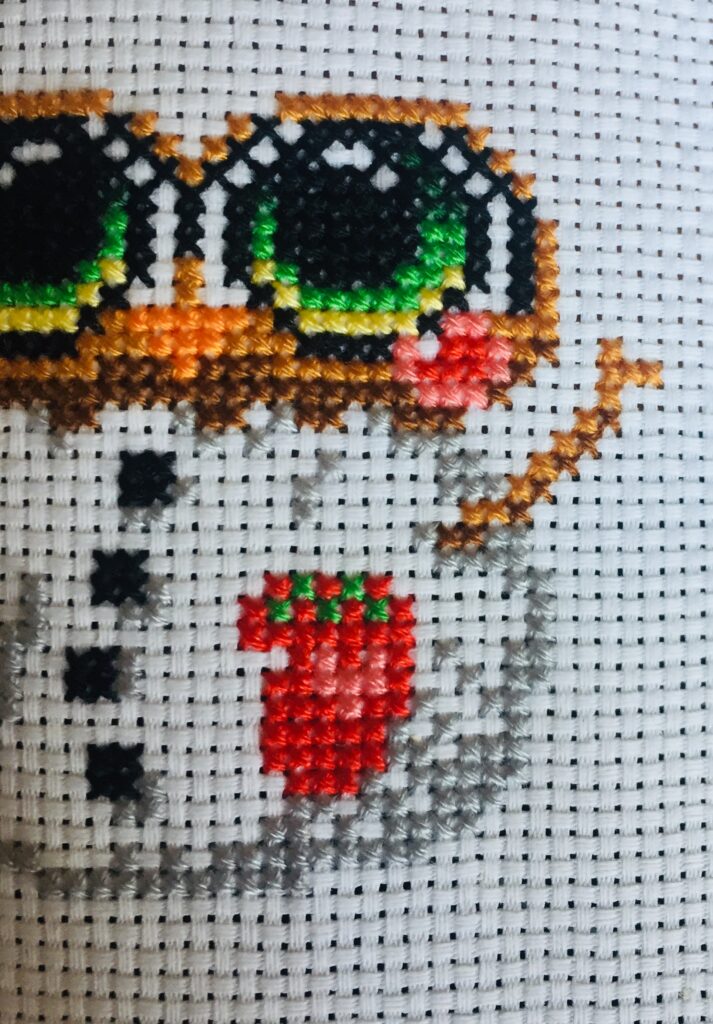 Although there were small amounts of white in the Santa Owl, I knew for certain I was avoiding the white in the Snowman owl. Having completed the body outline and most of the eyes there was no choice but to fill in with white stranded cotton.
Please fell free to follow me on Facebook -where I try to give more regular updates on all my projects.
← Back (Part 2) ☺ ♥ ♥ ☺ Next (part 4) →