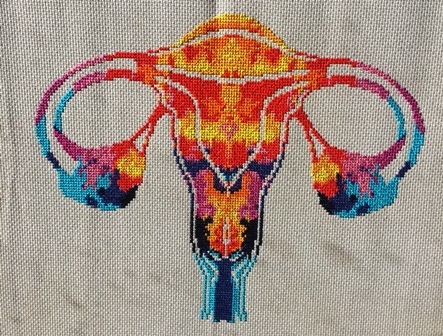 Probably the most colourful and interesting kit I have sewn in a while: Pattern No 505 Uterus Cross-Stitch pattern.
It has a grid size of 149 x 118 stitches on 14ct Aida.
It's design area is 10.64″ x 8.43″ or 27.03cm x 21.41cm
9 of brightly coloured DMC threads.
The design requires you to print off:
Colour preview of the finished design.
A large chart consisting of 2 A4 sheets.
Coloured DMC floss / symbol chart.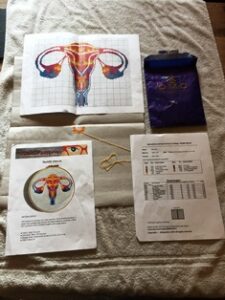 This Uterus Cross-Stitch kit arrived partially started, as shown in the image. Included were 9 DMC skeins, a pattern printed on two A4 sheets, stitch chart and preview of the finished project.
The pattern on the whole was fairly easy to follow. However, a certain degree of concentration's required due to there being several individual stitches of varying colours throughout the design.
Depending on the print quality of the pattern a few symbols in close proximity to each other could easily be missed because despite them having different symbols the colours are very close. This means that if you are on a run of stitches and forget to count the rows but instead just glance at the pattern for reference you could easily mix them up, especially if you are working under artificial light.
Starting the Uterus cross stitch kit.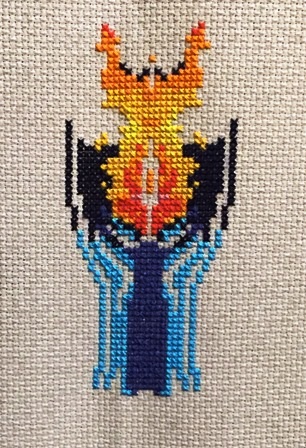 Well this is the first anatomical cross stitch kit I have done.
For this design I first put the 14ct Aida onto a cross-stitch stand. I then started working from the bottom up which can be seen in the image.
As the patterns symmetrical I worked from the right to the centre. However, depending on how you prefer to work, each section's relatively easy to complete. Once one side's completed replicating the other without using the pattern is simple.
Continue using this method throughout the pattern, as shown in the images below until the whole patterns completed.
Uterus Cross-Stitch pattern, in conclusion.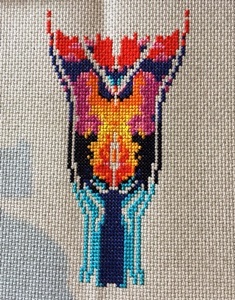 All in all this is a fairly simple kit to complete and I would put the skill level at intermediate. I say this, because despite the simple easy to follow design a certain degree of knowledge on how to read and follow a pattern's required. Also, as mentioned earlier there are certain areas that have individual stitches. Also, some pattern symbols have very similar colours when printed out. This might cause unintentional mistakes if the patterns not followed accurately. Especially, as also mentioned earlier, you are working under artificial light.
Having now completed my first anatomical cross stitch kit I decided to take a look online. I was amazed to see some really beautiful anatomical cross stitch kits available and may consider purchasing one myself.