An excellent way to bring some pre-Christmas cheer to your household – children's cross-Stitch Christmas decorations. These are a perfect way to introduce children to cross stitch. Simple but effective. From Go Create, the kit includes: 3 wooden embroidery hoops, plastic safety needles, threads, pom-poms, coloured felt, dotty cardboard, stars, binca (stiff large holed aida), decorative ribbon and instructions.
What's inside?
I bought this kit in Tesco, mainly for the wooden embroidery hoops, because it was such a good price. The instructions are easy to follow. However, some adult supervision will be needed to tighten up the hoops before sewing and cut away the excess material when the stitching is complete. I would also advise assisting with the gluing of the felt and stars – unless, of course, you enjoy scrapping PVA glue from your crafting area. The kit does not contain PVA glue or a glue spreader.
Stitching The Projects
Completed by a child, I would have let them just stitch onto the binca without the frame. However, to keep the tension on the binca, I decided to use the stitch with the binca frame. But be aware that the centre of the decorations needs to line up with the gap in the embroidery hoops. Quick and simple to complete, the projects didn't sing to me, so I left them in the box for a while. On purchasing some PVA glue for another project, I decided to revisit these children's cross-stitch Christmas decorations. Finishing them off, with the stars and extra features definitely change my opinion of these kits.
Improvisation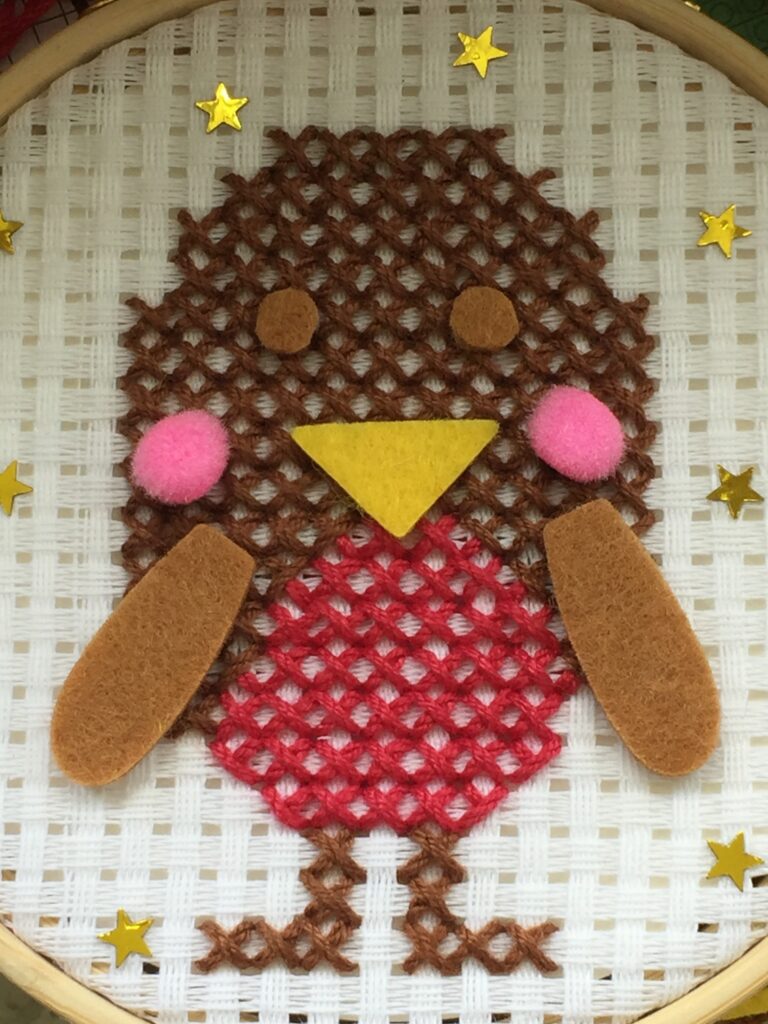 Unfortunately, the eyes for the Robin had either been misplaced or were not in the kit originally. I suspect the former but in my array of craft items, who knows where they went? Luckily, I had just enough spare fawn coloured felt, from the pre-cut robins wings, to be able to cut out a set of eyes.
I also used the ribbon supplied to hang two of the decorations up with (in the above photos.) However, I do like the star ornament which has the ribbon around the edge of the embroidery hoop (as per the instructions.)
For more Christmas cross stitch pages: Christmas Winter Wonderland, Merry Xmas: Christmas Owls , Felt craft kits 😍♥ ♥😍 For more Children's Cross Stitch pages: Children's cross stitch , Cross stitch kits for kids