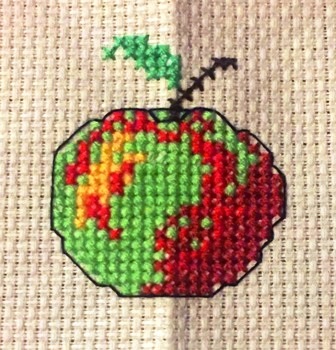 In The Kit:
The 'An Apple for Teacher' cross-stitch kit (as I've nicknamed it) contained everything you need to complete the project:
off-white aida (14 count)
needle
embroidery threads
stitching chart
instructions
This kit is called 'Get started' by Calderly Cross Stitch (copyright 1993). I'm not sure how I aquired this kit but I have tried to research the company on the world-wide-web but to no avail. If anyone has any information about this company I would be very interested in hearing from you – please use the contact me form.
To Back Stitch "An Apple for Teacher" Cross-Stitch or Not?
Usually adding the back sititch to any project helps to pop the image out of the aida and assist in it's three dimensional look. However with this particular image I was in two minds. I knew I could easily unpick the backstitching if I disliked it but did I want to waste my time?
With nothing to lose, completing the design as intended was the only reasonable outcome. But it made the apple lose its shape and character, I thought. So I unpicked it! To this day I'm still not sure about which is better. Here are both apples side by side so you can view them more easily. Use the contact me form to let me know your thoughts.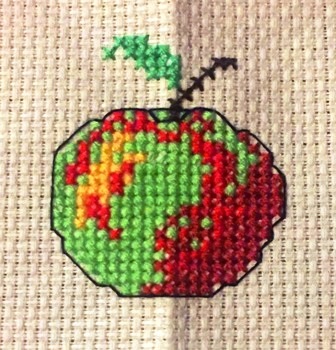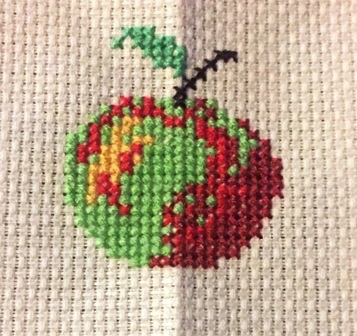 You can buy other simple cross stitch kits here but the one above is not available, anywhere, online!