Photo editing to finished cross stitch design.
We are now able to provide a complete Photo to cross stitch finishing service.
Recently we have received several enquiries about having a Photo to cross stitch finishing service.
For this reason we have decided to expand our services.
To create the example shown below, we used image editing software and Photo to cross stitch software. The client, who's passionate about big cats, collects big cat cross stitch kits. They had a particular liking of a photograph of a Clouded leopard that they had taken but could not find one in kit form to match the collection. Our job was to create a cross stitch design using their image and in keeping with the collection of kits already owned by them.
For an example of a Jaguar cross stitch kit in the collection that we previously completed see here.

Shown below is an example of our photo to cross stitch service.
After editing the above image it then needed converting to a detailed cross stitch pattern.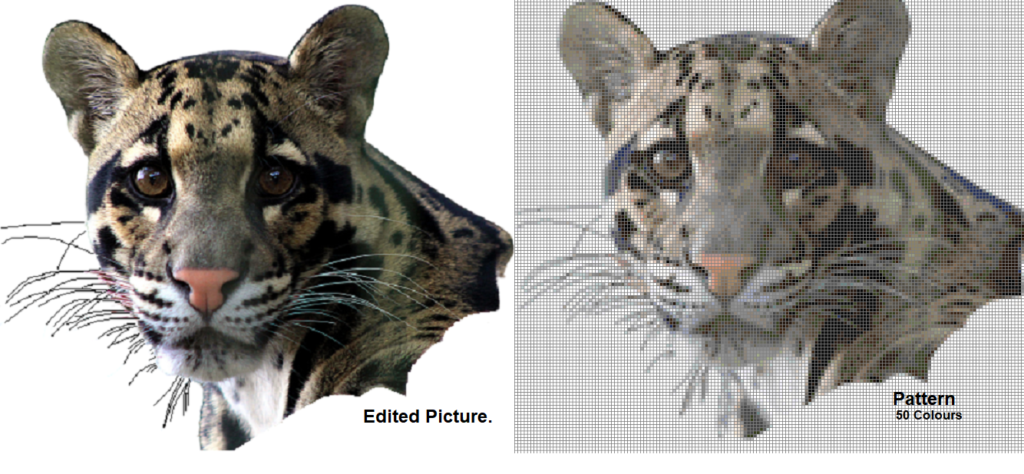 Next, Aida and all coloured threads needed ordering before work commenced. To find out more about the process pleases see here.
Clouded Leopard cross stitch project stages to completion.
Cross stitch Pet portraits:
As with the Clouded Leopard above we are able to create Photo to cross stitch, cross stitch pet portraits of your favorite pets.
How to get a Photo to cross stitch pet portrait.
Send us the image you would like converted. All pictures must be of good quality and high resolution in order to accurately produce a detailed cross stitch pattern. All pictures must be the property of the owner and copyright free. If the images are of a poor quality or the property of a third party we will not be able to help.
You will also need to inform us of what size you want the finished piece to be including borders.
Next tell us what count of Aida you would like us to use. for Example, 14ct, 16ct, 18ct,
After we have edited the image we will send you a choice of patterns as close to the dimensions given and using the stitch count requested.
We will then send you a choice of patterns.
Choose which pattern you would prefer, for example 100 colours, 75 colours, 50 colours and so on. We are happy to advise should you find it difficult to choose as sometimes less is more.
Once you have decided on the pattern we will send you a price to complete the work. This price includes labour and all agreed materials which we will supply at cost.
On agreement of the quote we will require half payment (50%) upfront to cover material costs and the initial labour charges.
Once we have received the payment we will send you updates on the progress for your approval.
Upon full completion the outstanding balance must be paid. Then once the funds have cleared we will return the finished item.