Constructed on 14 count Aida, this Merry Xmas, Christmas Owls kit is bright and cheerful. 5 owls each dressed to depict fun parts of Christmas: Santa, reindeer, presents, snowmen and a Christmas tree. The kit contains a coloured stitching pattern and back-stitching chart, embroidery yarns, 2 needles and 14 count Aida. All of these come in a handy snap close plastic wallet – ideal for keeping the project in while you are not working on it. this kit was purchased on ebay but you can purchase them on AMAZON UK or AMAZON USA
I'm really excited about this project. It's bright and cheerful, just what we all need at this point in time, during the Covid-19 Lockdown. So I have decided to give you updates as and when I complete different sections of the project.
Week 1 : First of the Merry Xmas: Christmas Owls (started 14th May 2020)
Day 1 of stitching:
I usually start in the middle of a project, which is clearly marked on the pattern, so I started with the present on top of the middle owls head. A nice bright simple beginning.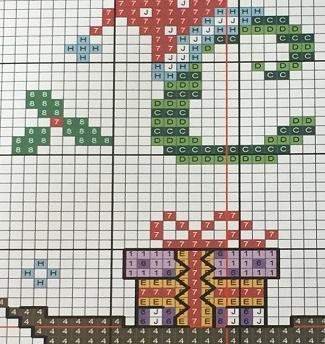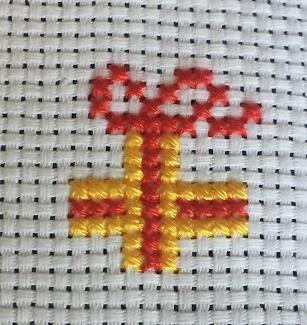 I posted the red and yellow stitched picture on my Facebook page and asked what people thought it might be however I don't think anyone was brave enough to guess!
Day 2 of stitching: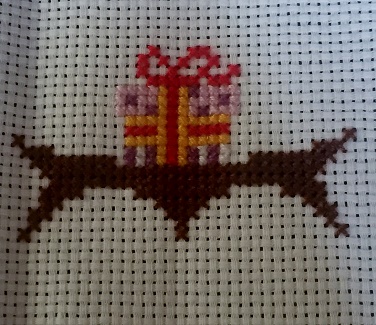 Next, was to complete the wrapping paper on the present. The top part of the wrapping overhangs the bottom section. I thought this looked wrong once I stitched it so I unpicked that part and restitched it so that all sections lined up. However this didn't look right either so I restitched the overhang and just went with it. If, when I have done some more I still dislike it I will have a rethink and maybe change the colour of the threads to make it look better. Again I have added this picture to my Facebook page.