This Ross Originals, Jaguar cross-stitch pattern has to be one of my favourite pieces to date.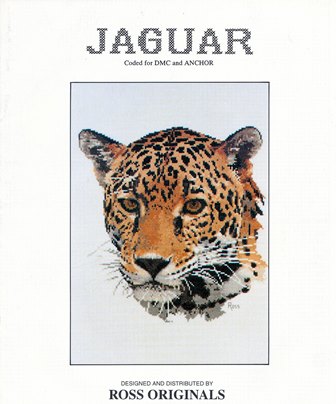 This Jaguar cross stitch design is one in a big cat series that also includes a Lion, Snow Leopard, Tiger, White Tiger and Panther by Australian cross stitch designer Graeme Ross. The design can be stitched on 18ct Aida, 16ct Aida or 14ct Aida.
Who is Graeme Ross?
Graeme Ross was an artist and designer who created the Ross Originals cross-stitch designs that included many collections such as birds, animals, floral designs, homes and scenery, tropical fish, butterflies and many others.
I stitched this particular design on 14ct Antique white Aida at the clients request to be in keeping with ones that they had already completed. The design itself requires the use of 20 stranded cotton skeins.
Graeme Ross Jaguar Cross-Stitch pattern.
Ross originals, pattern symbols.
The pattern has a hand made feel and the design contains 20 different symbols that denote each coloured thread used, listed in the bottom left hand of the pattern. However during the stitching I believe there is a typing error for at least one of the colours: this being DMC 3042 which is a lilac colour. However I felt aesthetically it should have been DMC 3024 which is more Grey and in keeping with the overall design. Please see below.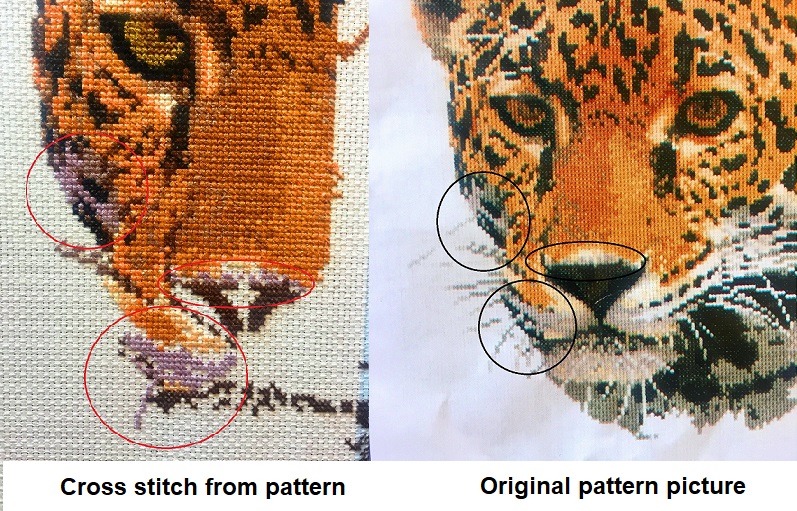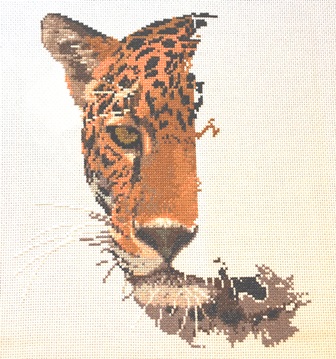 There are also two separate thread codes for both Anchor Threads and DMC Threads. Personally I found some of these symbols a little hard to decipher. First I thought that as I was using a photo copy to work from the printer may have printed incorrectly. However with that said, on inspection of the original design the same discrepancies where also visible on the original pattern.
Also concentration and a certain degree of skill's required when following the pattern. There's many individual stitches dotted through out the design and these can be easily overlooked. This happens especially when working on certain areas or if distracted or you struggle to follow a pattern.
Backstitch.
On the plus side with this design, once you have completed your last cross there's no back stitch required.
In conclusion.
Apart from the pattern being slightly difficult to decipher in places and the colour discrepancy I enjoyed working on it. Overall when completed the Jaguar cross stitch design's a beautiful piece but I would not recommend it for a beginner.
In terms of availability patterns can be purchased online but I would recommend checking all colour codes with the design picture before ordering any cross stitch threads.