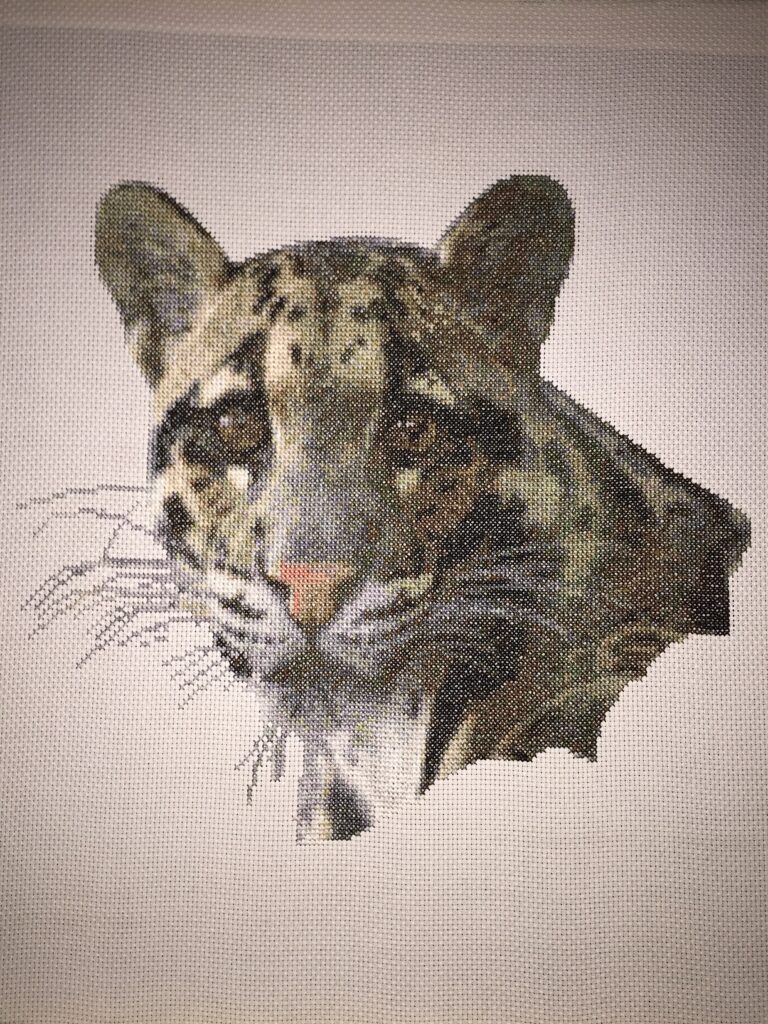 We created this Clouded Leopard Cross stitch kit using a photograph provided by a regular client. For more details please see our Photo to cross stitch finishing service.
Firstly, on receipt of the image we edited out the background. The Leopards head was then edited to suit the design and dimensions in keeping with a set of Big cat cross stitch kits that the customer already owned. A previous project completed from a professional kit can be seen here.
After agreeing upon a suitable edited image we produced a selection of pattern options. Each pattern contained a varying amount of colours giving varying levels of detail.
To achieve the desired look the client chose the pattern which required fifty different colours of yarn. Following that we produced a pattern and colour chart then proceeded with the project.
Starting the Big cat cross stitch kit.
Firstly, we stitched a fat quarter of Aida onto a sewing frame. Then the Aida needed tightening giving it a drum like quality.
Next, both the pattern centre and Aida centre needed locating before commencing the stitch work.
Stitching a big cat cross stitch kit.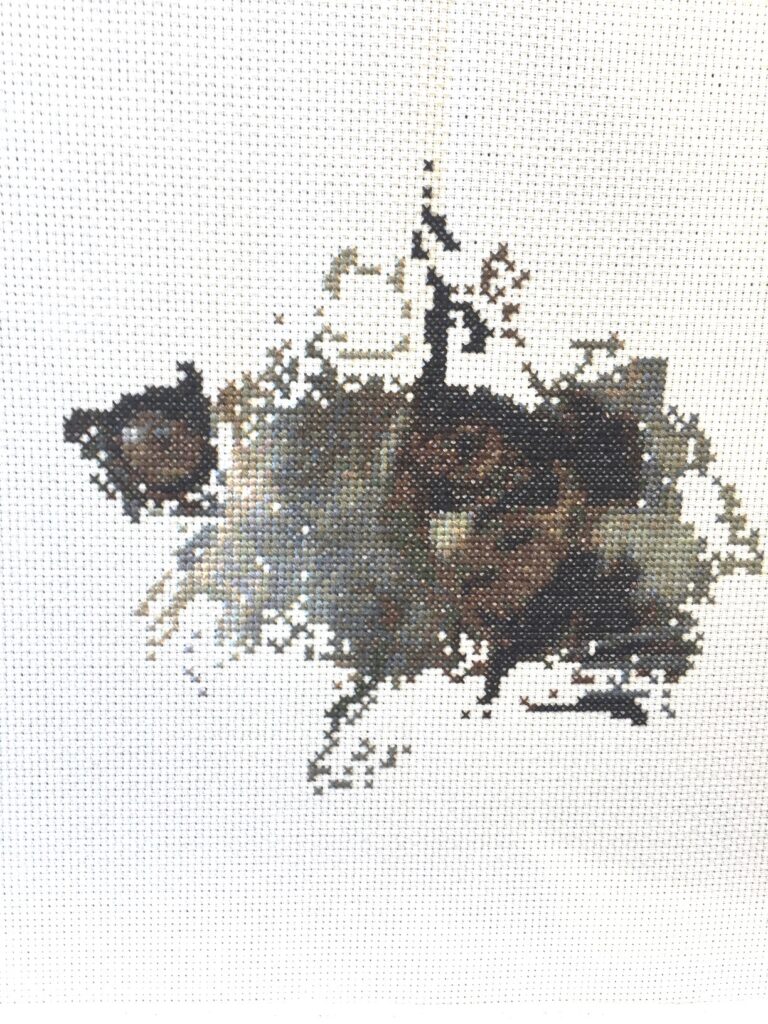 With everything ready we first focused on the eyes as they were crucial to the overall look of the piece. These would help create the realism that we were looking for so it is crucial to get them right. As shown in the image, the left eye worked beautifully however, the right eye seemed a little dark. Adjustments would be made once the design neared completion. Being a custom piece it would give us a better idea of the overall look thus enabling us make the correct adjustments.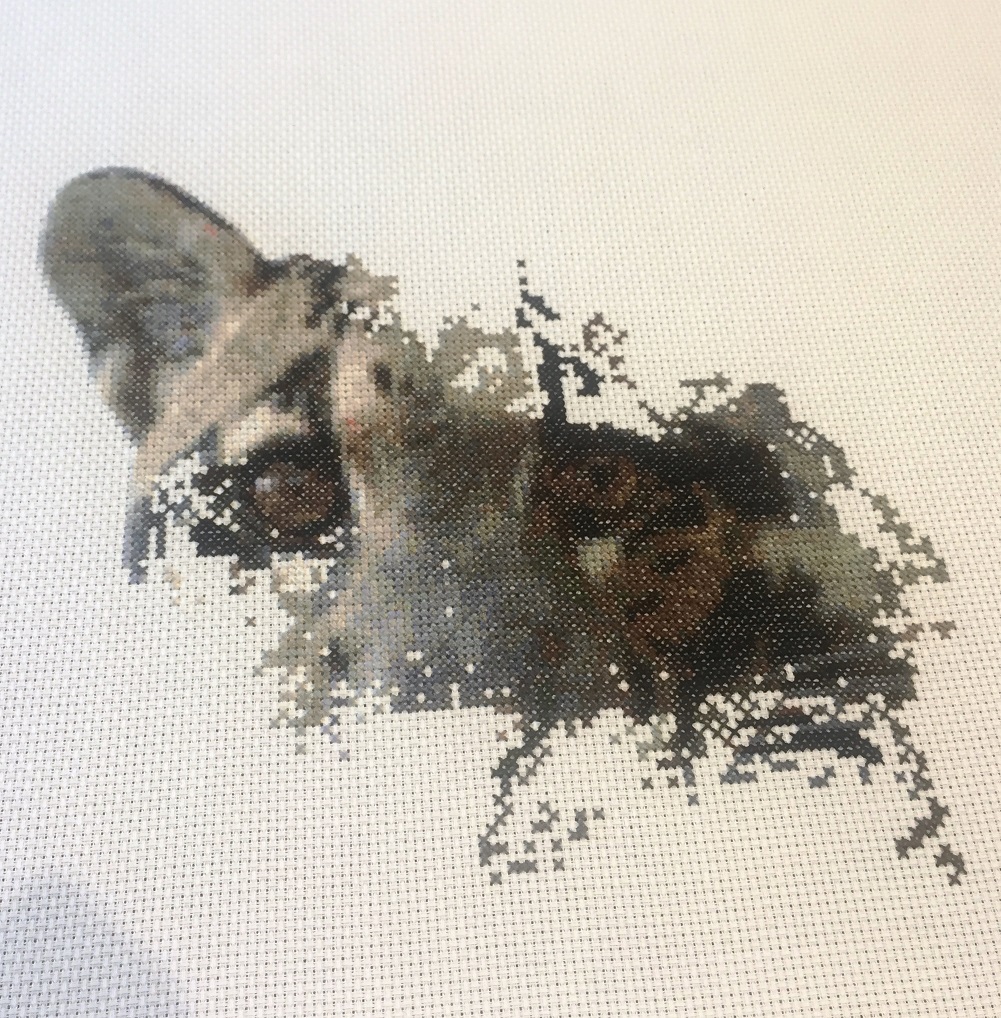 The next thing to do was to stitch to the top left of the image. This would add the Leopards ear and create the initial curve of the head. Doing so makes it possible to stitch from left to right slowly building the cross stitch design
Top half of a clouded leopard cross stitch kit.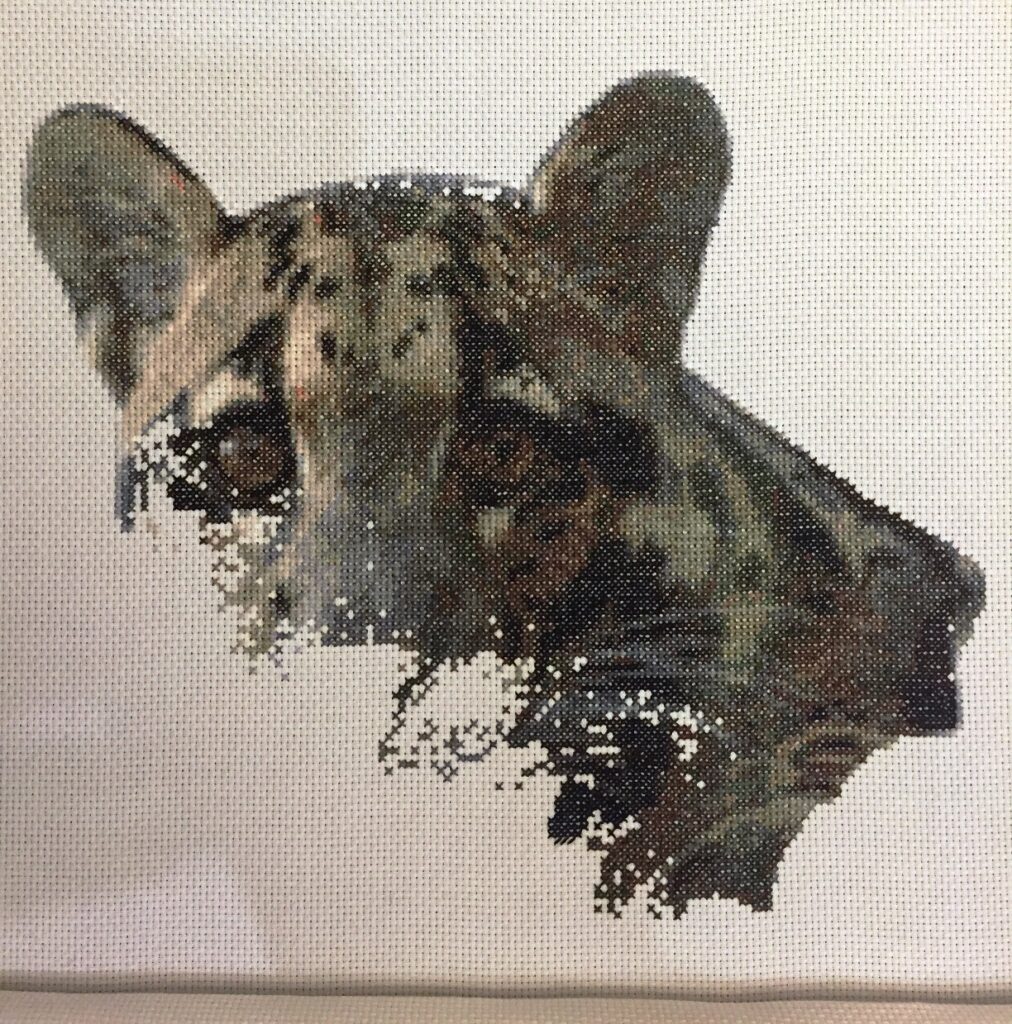 In the next image the right side of the Leopards head is almost complete. the whiskers are now becoming visible and the likeness is now starting to form but the realism still isn't quite there yet.
Completing the Clouded Leopard cross stitch kit.
In the following two images you can see how we continued across to the left side of the Leopards head, first adding in the Leopards muzzle and nose to bring more life, realism and definition to the face and then continued across and back up the face before finally adding the whiskers to finish off the Head. Lastly, we unpicked the right eye, restitched it using lighter colours, added reflection to bring it to life and finish the overall look.