Bluebell Wood.
Having had to take time out to focus on my teaching here is my most recent cross stitch project. Its title is Bluebell Wood from the Cross Stitch Collection magazine dated March 2009 issue No: 168.
The pattern is a design by Maria Diaz. Maria has designed many cross stitch patterns most of which can found in books and cross stitch publications by Maria Diaz.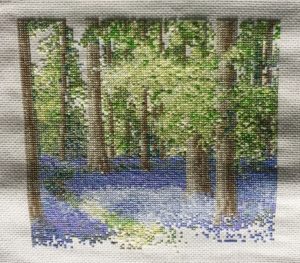 The project arrived partially complete, as shown in the image shown to the right, (as sent by the client). A few small areas in the trees needed to be finished but mostly the bottom 3rd was missing and required completion.
The project was fairly easy to complete but it required many needle changes. The pattern contains a  plethora of beautiful colours, which in my case came from DMC. There is, however, a detailed colour chart and codes giving the option to use other threads by either Anchor or Madeira.  The Aida is 14HPI with double-stranded stitching. Due to the amount of detail in the design I had to keep an eye on the pattern so concentration levels need to be high. All tree trunks are subtlety picked out using a single-stranded dark brown backstitch.
Sourcing a pattern for Bluebell wood.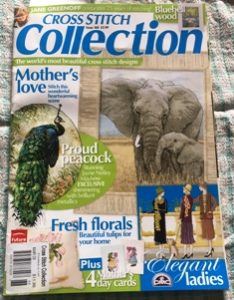 I have done a quick online search for the pattern but I am almost certain it is no longer available. You could, however, try to find a copy of the magazine yourself.
You may also be able to contact Maria directly at https://www.mariadiazdesigns.com. However, I am sure she is very busy and the pattern is over 10yrs old.
In conclusion.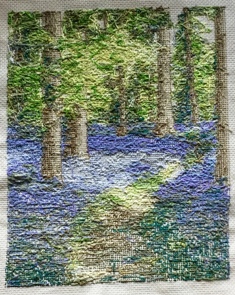 This is the first time I have completed a cross stitch design by Maria Diaz.
All in all, I really enjoyed finishing this project. However, I did find that I had to keep taking breaks as the concentration level was very high.
However, with that said the pattern was easy to follow.  I did really have to focus on each symbol in the key as the colour blends were very close in some areas.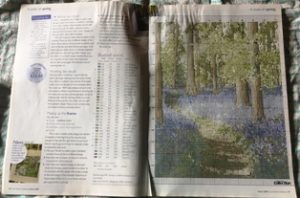 The choice of palette, of 35 colours fully complements the overall look and feel of the picture with all colours blending seamlessly into each other. A cleverly executed overall design and composition invite your eye to journey through the wood to view what awaits around the corner. The carefully thought out limited use of backstitching provides just enough to outline the trees and create the desired effect.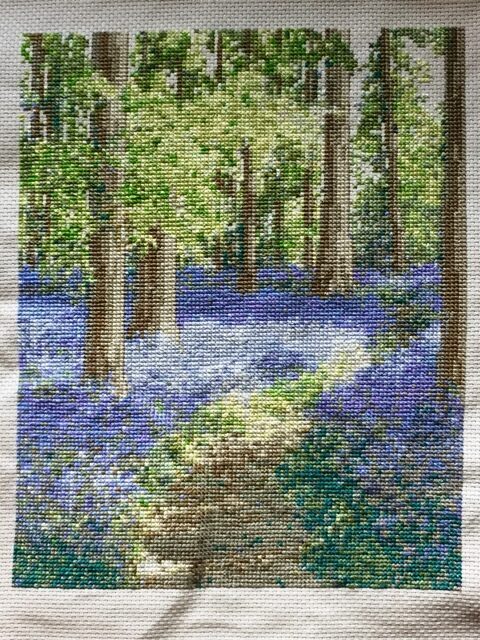 With a finished size of 25x20cm Bluebell Wood is a lovely piece and would look beautiful framed and hung on any wall.
Blue Bell Woods
Average rating:
0 reviews