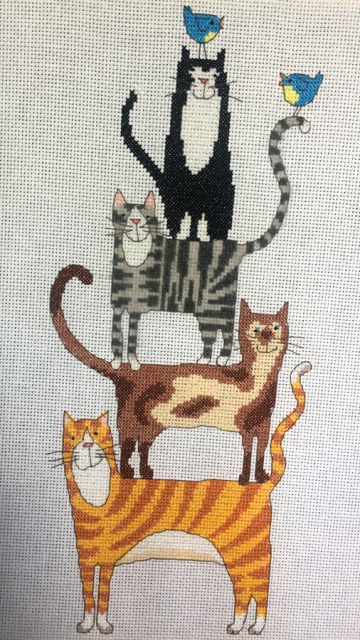 For Cat Lovers Everywhere: Cat Stack cross stitch kit from Bothy Threads.
Where to buy Cat Stack cross stitch kit by Bothy Threads.
Kit contents:
14 count white Zweigart Aida
pre-sorted stranded cotton
'Lana' (a woolly thread)
a needle
stitching diagrams
completion instructions.
Finished size 18 by 34cm. This kit uses full cross stitches, backstitch and a few French knots.
Cat Stack's one of a series of cross stitch kits developed from original artwork by Kate Mawdsley Kate Mawdsley.com
The kits fairly straight forward in terms of the cross stitching and backstitch and would be ideal for beginners. All the crosses are full stitches. The backstitch can be completed in long runs, as it is a modern pattern. This makes this the backstitch quicker to complete than some other backstitching designs.
French knots.
The only advance stitch you may need is a French knot to complete the cat's eyes. Once the French knot is mastered, depending on your skill level, the overall effect is wonderful. It really gives each cat (and the birds) different personalities.
However, When positioning the French knots, be careful not to position them incorrectly. Doing so just makes the cat's look 'odd'. With that said, don't be afraid to undo it and have another go. Try offsetting them from the holes if necessary to achieve the look you require. For a quick tutorial on 'How to tie French Knots' See HERE!
Lana thread used in Cat Stack cross stitch kit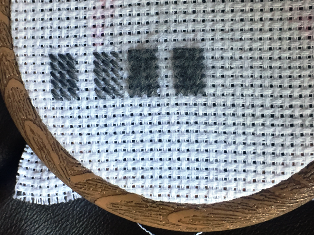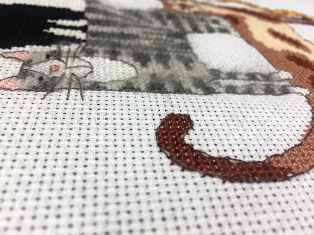 This kit contained a first for me – Lana thread. I have never worked with Lana threads before which made it interesting to use. Also, I found them to be thicker than stranded cotton that's normally used in most cross stitch kits and has the appearance of pure wool. On completion of the stripy grey cat, the Lana thread's 'fluffed up'. To achieve this rub a piece of velcro across it carefully. So as not to damage the yarn but to give it a fluffy appearance. You do need to be cautious about not catching the stranded cotton face and paws with the velcro. I would recommend practising fluffing up the Lana on a spare piece of cloth or Aida as shown in the image.
Cat Stack cross stitch kit Pattern and Instructions.
The stitching instructions are very clear and set out the order in which things should be done, both for stitching the design. They also explain how Bothy Threads stitched the design along with some useful top tips.
The pattern chart is clearly printed on two lots of two A3 sheets of paper. With one set of two for the cross stitching chart, and the second set for the backstitching and the placement of the French knots. Charts can be marked off as you stitch although I found it unnecessary as the design is in blocks of colour requiring only a few needle changes. Overall Cat Stack was a joy to stitch with different techniques, the use of Lana, French knots and delightful colours.
Unfortunately, this particular project required the purchasing of more of the stranded cotton owing to the need to unpick my client's work as sadly it had been started in the wrong place. Also, it was a little tangled so the threads were unsalvageable. This meant that, even though excess threads had been given in the original kit, there was not enough extra of one of the colours.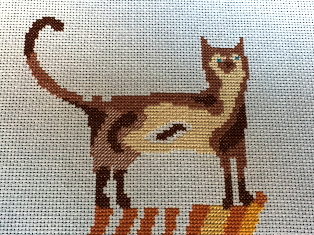 The brown striped cat (cat 1) with some stitching unfinished while I waited for the cotton to arrive.
The Threads used in this kit are Mouliné Madeira threads.
Cross Stitching Heaven.
Average rating:
0 reviews